This post may contain affiliate links, which means that if you make a purchase through a link, I may receive a small commission at no extra cost to you. Earnings are used to keep this website running.  Please read my disclaimer page for more information. I only ever include resources that I personally use and love.
"Every person's life depends on the process of choosing goals to pursue; if you remain passive you are not going to thrive as a human being."

Edwin A. Locke – 2019
You know that goal setting is a thing. You hear about it all the time and you may have even come across an article or two (or three) about the power of goal setting. If you've explored this site, you may have even noticed that I have an entire category dedicated to goal setting.
But why?
Is goal setting really that important? Who was it that said it was important? Is this all just a bunch of hype?
Is "doing your best" really not enough? Do we need goals?
I really wanted to be able to dig into the "why" and the "how" behind goal setting.
Most importantly, I wanted real evidence to support the power of goal setting. I wanted to learn exactly how to set goals the "right way" such that I can maximize my chances of success.
In order to accomplish this, I turned to the actual science behind goal setting. And as it turns out, it is in fact a thing. And it's called Goal Setting Theory.
Why is the science of goal setting important?
There is so much information on goal setting. The Google search "goal setting" provides limitless results ranging from "How to Set SMART Goals", "Complete Guides to Goal Setting" and countless tips and tricks for goal setting success.
So how do you know which guide to turn to?
Personally, I want the goal setting system which will actually guide me to success. And for that, we need to turn to science to learn what has actually been demonstrated to be effective.
After all, our days are full to brim of every-day life. It's not easy to carve out extra time to spend on our goals. Which is why it's important to go about goal setting the "right" way and increase our odds of success without wasting valuable time.
Which is why I turned to Goal Setting Theory in order to answer the following questions:
How do goals help us take action and achieve success?
What type of goals should we set?
What qualities make a goal effective?
How can we make a goal important enough to put in the extra effort necessary to achieve it?
Is life better with goals?
How can we become better at achieving our goals?
Read on to learn how science has effectively answered these questions and demonstrated how to set and achieve our long and short-term goals.
Learn how to set your long and short-term goals by downloading the 10-Year Goals pdf workbook:
What is Goal Setting Theory?
The science of goal setting is best understood with the help of Edwin A. Locke and Gary P. Latham, aka, the fathers of Goal Setting Theory. The theory was born with the desire to understand why some people, with all things considered equal like education, skills and intelligence, consistently outperform others. Why are some people just better at taking action, being consistent and achieving their goals?
In 1990, Locke & Latham published a guide called "A Theory of Goal Setting and Task Performance". This guide is an overview of almost 35 years of goal setting research, across 400 different research studies.
"A Theory of Goal Setting" fully established that goal setting is indeed "a thing" and paved the way for large companies and managers to understand how to motivate employees for greater performance.
It also provides valuable guidance into how individuals like you and me can use goal setting to perform at our best and achieve that which we want in life.
Is goal setting effective?
The entire premise of goal setting theory is that the process of setting a goal affects what you can achieve. Not only does "A Theory of Goal Setting and Task Performance" clearly demonstrate that goal setting is linked to performance, but many research studies, both in the lab and in real life, demonstrate the effectiveness of goals.
Goal setting theory has been applied to large organizations to increase employee productivity and help leadership teams and managers understand how to move a company forward with the power of individual goals, small team goals, group goals, and all the way up to company goals and vision.
The same goal setting techniques used to successfully help large organizations and teams have also been applied to professional athletes and individuals with personal life goals.
Why is goal setting is so effective?
The process of setting a goal causes 4 things to happen:
Your attention becomes focused on what it will take to achieve the goal.
You become energized to do what it takes to make progress on your goal.
Efforts over time lead to persistence.
A clearly defined goal generates the motivation necessary to succeed.
Focus
By committing to a goal you choose to aim your attention on actions which will help you achieve the goal. With focus, you can plan your day with intention, making room for tasks and habits which will move you forward on your journey to goal success.
Energy
Goals energize you to take action. In fact, the bigger, more challenging the goal, the more energy is applied to the action. Smaller goals were proven to demonstrate less energy and less progress.
Persistence
Having a specific set goal leads to persistence. In particular, challenging goals require consistency and effort over time.
Motivation
Goals motivate you to take action. In order to be successful, you have to utilize skills you already have in order to make progress. If you don't have the skills to move forward, having a specific goal will motivate you to seek out the knowledge and skills necessary.
Revisit this post later by saving to your favorite Pinterest board!
Specific and Challenging Goals
It turns out that all goals are not created equal. There is a certain type of goal that will lead to the greatest productivity, and therefore chance of success.
Specific and challenging goals lead to greater performance, better than simply "doing your best" or setting small and easy goals.
The level of difficulty of a goal is directly tied to the level of performance. The harder the goal, the greater the effort, and action, to achieve it.
Vague goals, easy goals, or no goal at all, i.e, "do your best," all demonstrate poor performance.
And poor performance means a low probability of achieving the goal.
What is a specific goal?
A clearly defined, specific goal provides a roadmap to take action.
Without clarity you have many possible outcomes and lack direction or the ability to track and monitor progress.
Research demonstrates that very specific goals show less variation in performance. In other words, a clearly defined goal leads to consistency and productivity.
What if a goal is too challenging to achieve?
The more challenging the goal, the greater the performance and productivity to achieve it. But what if a goal is so challenging that it becomes overwhelming?
Eventually a goal will be so difficult as to seem impossible to achieve. However, research demonstrates that productivity will only level off or drop when you reach your personal skill and ability limits, or if your commitment to the goal falls off.
Luckily, these can be overcome. Which means there really is no such thing as a goal that is too challenging to achieve. As will be discussed later in this article, you can simply break the large goal down into learning-based goals to hone the skills you need. You can also address commitment to a goal and work to reclaim it.
The bottom line: Set specific and challenging "stretch" goals.
Additional tips on specific and challenging goals
A specific and challenging goal requires you to imagine how you will go about achieving it. The process of thinking about it and mapping out what it will take to make progress, automatically lead to the planning of actions necessary to achieve the goal.
Overall, a specific and challenging goal prompts you to be more strategic with higher quality planning for success.
Interestingly, there is no evidence to suggest that age, race, gender, education, personality or culture have an impact on goal performance.
Related reading: How To Achieve Your Dreams by Setting Stepping Stone Goals
Conditions for goal setting effectiveness
Setting difficult and specific goals leads to greater performance than simply "doing your best". However, personal outcomes rely upon additional conditions. These are outlined in Latham's The Motivational Benefits of Goal Setting as well as Peter A. Heslin, Jay B. Carson, and Don VandeWalle's Practical Applications of Goal Setting Theory to Performance Management.
Locke and Latham provide 5 key principles for goal setting success. If you want to follow through and achieve your goals, these are the 5 components that you need to review and include.
Goal commitment
Goal importance
Self-efficacy
Feedback
Task complexity
Each of these 5 key principles for goal setting success are interconnected.
Goal Commitment
Goal commitment is essential to success, particularly for challenging goals. Since challenging goals require a lot of time and persistent effort, it's easy to give up and fail. Commitment to the goal will push you to be persistent, follow through, and prevent failure.
In order to be committed to a goal, it needs to be highly significant to you. Understand your why and think about what goal achievement really means. Imagine how life will be different once you achieve success.
As the importance of the goal increases, so too does goal commitment.
A series of questions, also known as a Goal Commitment Scale, developed by Hollenbeck, Williams, and Klein, can be useful in assessing how committed you really are to your goal. Ask yourself the following questions:
It's hard to take this goal seriously.
Quite frankly, I don't care if I achieve this goal or not.
I am strongly committed to pursuing this goal.
It wouldn't take much to make me abandon this goal.
I think this is a good goal to shoot for.
If you find that you don't strongly disagree with questions 1, 2 and 4, the goal isn't very important. If questions 3 and 5 resonate greatly, you will be more likely to have high goal commitment.
Of note, a high level of goal commitment does not automatically cause you to take action. You still need the combination of all the key principals.
Goal Importance
You can increase goal importance in a number of ways.
First, make a public commitment to your goal. If you fail, you become a hypocrite, and that is not who you are. Therefore, failure isn't an option and the goal automatically becomes more important to you.
Second, a goal which focuses on a personal, company or community vision, or provides inspiration, will be more meaningful and important to you. To feel committed to a goal you must feel that it is important to you.
Third, confidence in your own ability to achieve the goal will also improve the importance of the goal. For example, if your boss or a role-model in your life believes in you and your ability. Building your own confidence is important and leads into the next component.
Self-efficacy / Ability
Self-efficacy refers to the confidence and belief in your ability to achieve a goal. This includes ability, training, experience, past success, education and information.
Individuals with high self-efficacy are more likely to set challenging goals, whereas those with low self-efficacy will set easy goals, or no goals at all.
Goals are set based upon the level of ability that you think you can attain. This implies that setting challenging goals requires a certain amount of confidence. Thankfully, this can be improved in a number of ways.
First, self-efficacy can be improved with the achievement of small, short-term goals. This means that you can take large goals and break them down into smaller goals and tasks. As you go about achieving these smaller goals, your confidence in your own ability to make progress improves. As your confidence improves, your ability to reach for more challenging goals also improves.
This is why it is essential to acknowledge your small achievements and progress along the way.
Conversely, if you set goals and fail to achieve them, self-efficacy drops. This is further incentive to break a goal down into smaller chunks which can be achieved and celebrated.
Of note, achieving smaller goals which have been broken off from a larger goal, called "sub-goals", leads to self-efficacy. Success without the clearly defined "sub-goal" does nothing to improve self-efficacy. The simple act of setting small goals and achieving them leads to greater confidence and ability to set and achieve larger "stretch" goals.
Secondly, following along with and identifying with a role model that has successfully completed a similar goal is an effective technique to improve self-efficacy.
Lastly, encouragement from someone you respect or positive self-talk are effective ways to improve self-confidence and self-efficacy. Focus on how far you have already come, rather than how far you still have to go, and give yourself some credit. Celebrate the wins and reflect upon the wins along the journey thus far.
How to maintain self-efficacy in the face of setbacks
Just as self-efficacy is improved with each small win, it can be lost in the face of setbacks and adversity.
To prevent this, keep in mind that your ability to make progress and become better at achieving your goals is in your control. Skills can be learned, goals can be broken down into smaller steps, and you have control over your ability to succeed.
To put this another way, if you always believe that you will continue making mistakes, results will always be the same and you won't make progress, you lose that self-efficacy. Self-limiting beliefs such as "I failed before, I'm bound to fail again" or "I'm just not smart enough to cut it" will continue to limit your self-efficacy and ability to succeed at your goals.
As you develop a growth-mindset, with positive self-talk, role models or outside encouragement that hard work and acquired skills will lead you to success, self-efficacy is improved and maintained.
Even if you aren't happy with your performance and progress so far, if you simply believe that you can and will do better, self-efficacy improves, allowing for the setting of larger goals and improved performance in the future.
Feedback
When coupled with high goal commitment, feedback is an incredibly powerful way to stay on track to achieve a goal.
Feedback is a way of tracking goal progress. Without feedback you have no way of knowing if you are on track or falling behind, or if your action steps and strategies need to be adjusted along the journey.
If you find that you are falling behind and not making progress on your goal, feedback is a motivating way to increase effort and learn new strategies.
And when feedback is positive, you know you are making progress, which builds confidence, self-efficacy, and the ability to set ever more challenging goals.
Gamification
One form of feedback is "gamification". This is by far my favorite way to track progress and stay motivated to achieve challenging goals.
In an interview with the author of The 4 Disciplines of Execution: Achieving Your Wildly Important Goals
, Chris McChesney describes how you can tell, just by the sound of basketball shoes on the court, whether a team is simply practicing or keeping score and playing to win. The simple act of keeping score motivates individuals to give it their all and add that extra effort to win.
In goal setting, by including a leaderboard, tracking progress against a goal, performance increased to the level of a difficult or impossible goal. Remember, the more difficult the goal, the greater the performance. Even if you have a smaller sub-goal, keeping a scorecard and tracking progress is enough to increase that performance level to that of a nearly impossible goal.
Task difficulty
If achievement of a goal requires strategy and tasks that are overly challenging, you're less likely to succeed. However, there are some ways around this.
First, training and education will make the tasks less difficult, until they eventually become routine.
Second, you can adjust the goal to be a learning-based goal first, until the right skills and knowledge are attained.
Similarly, breaking the goal up into smaller goals that can more easily be achieved along the journey to the larger goal. Skills can be learned and adapted along the way and additional feedback is automatically built in.
A small goal alone is not enough. It is the long-term, specific and challenging goal, with smaller "sub-goals" which motivate performance and progress.
The correlation between success and satisfaction
Goal Setting Theory clearly demonstrates a correlation between success and level of personal satisfaction.
The more important the goal is to you, the greater the satisfaction when you achieve success.
The goals you set for yourself are a reflection of the standard of performance by which you measure yourself and your progress by. Goal success therefore means more pride, self-confidence and positive results in your life. Which is a pretty darn satisfying result.
Goals are the desired and valued outcomes we wish to achieve. The greater the achievement and more frequent the successes, the greater your satisfaction with your performance.
How to increase satisfaction
Since goal setting success leads to satisfaction, it seems clear that simply setting more goals will lead to increasing satisfaction. But this isn't the only way to improve happiness and fulfillment.
Achievement of short-term goals leads to satisfaction in performance, since progress is made and success realized. These short-term "sub-goals" lead to greater persistence to achieve the goal. The long-term, more challenging goal sets the stage to be more strategic in planning how to attain the main goal as well as the smaller short-term goals.
In other words, set that big goal, break it down into smaller, short-term goals, then give credit and reward the small success along the way. This goes full circle to improve persistence, motivation and self-efficacy, along with satisfaction. And satisfaction means increased quality of life, happiness and fulfillment.
Putting it all together
Goal setting really is a thing. It's called Goal Setting Theory.
This facet of science has clearly demonstrated, time and again over many years and even more studies, that goal setting is not only effective, it leads to greater performance. And greater performance leads to success and satisfaction.
The more progress you make along your journey to achieve your goals, the better you will become at setting these goals. The better you become at goal setting, the bigger, more challenging goals you will set for yourself, which increases your performance. The wins along the way will boost self-confidence in your ability, furthering your motivation, energy and persistence. Which circles back around to setting bigger, more challenging goals and continuing to succeed.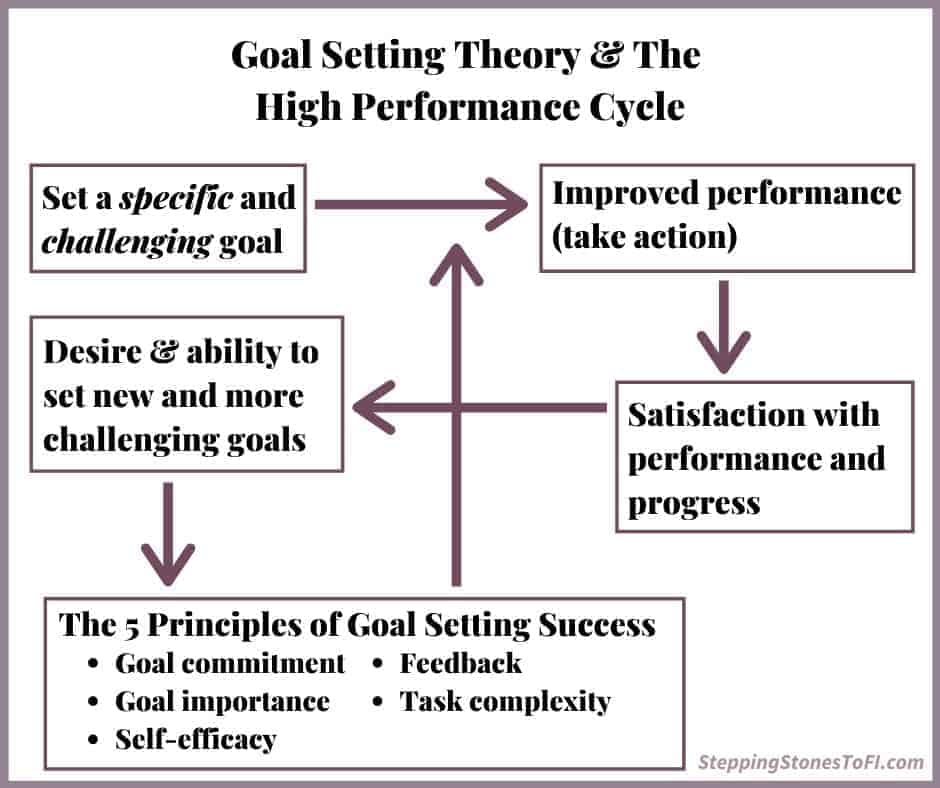 Additional resources
Building a Practically Useful Theory of Goal Setting and Task Motivation A 35-Year Odyssey Edwin A. Locke University of Maryland Gary P. Latham University of Toronto
Related reading
How To Achieve Your Dreams by Setting Stepping Stone Goals