This post may contain affiliate links, which means that if you make a purchase through a link, I may receive a small commission at no extra cost to you. Earnings are used to keep this website running.  Please read my disclaimer page for more information. I only ever include resources that I personally use and love.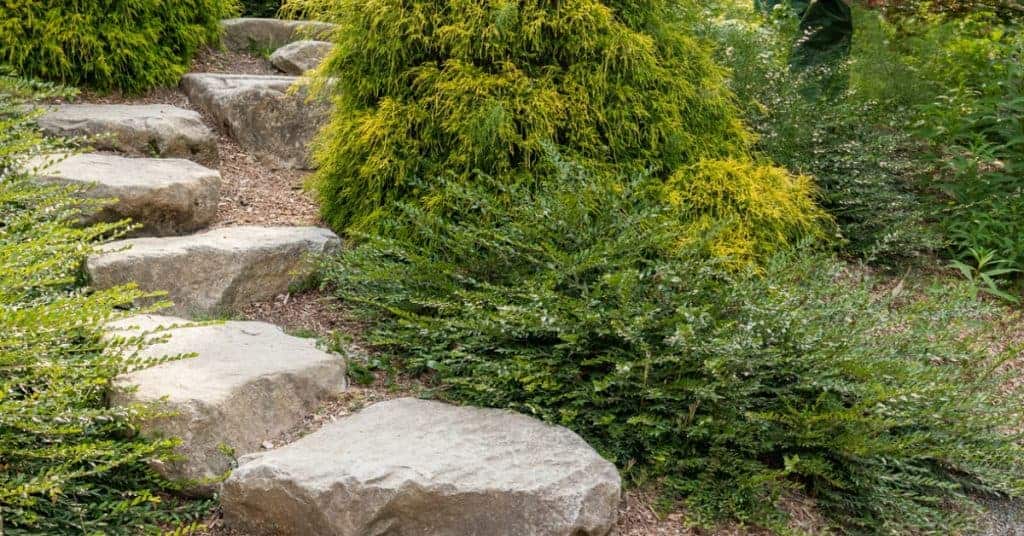 Our goals can only be reached through a vehicle of a plan, in which we must fervently believe, and upon which we must vigorously act. There is no other route to success.

Pablo Picasso
Take a moment to close your eyes. Imagine your life five years from now.
What does your life look like? Have you paid off all of your debt? Have you saved adequately for retirement? Are you traveling through Italy and drinking Aperol Spritzes in the piazza?
Now think back to 5 years ago. Are you living the life you imagined you would be, right now?
Did you have every intention of being further along than you are?
According to goal setting research from Dominican University, of people that actually set goals, only 34% go on to achieve those goals. If you take the population as a whole, that number is even smaller, since only a minority of people actually set goals at all.
If you believe the New Year's Resolutions statistics and research by StatisticBrain, 38% of Americans never set goals and only 8% of people actually achieve their New Year's Resolutions.
But that isn't to say that you are only 8% likely to achieve your goals. When done correctly, research by the leaders in Goal Setting Theory, Locke & Latham, suggests a whopping 90% improvement in performance and achievement.
With the right tools in place, you can achieve your goals, both large and small, and start living the life you dream of.
In this article, I will define the Stepping Stones to Goal Setting and cover why they are key to achieving your long-term goals and dreams.
Step 1: Define your "Big Vision"
The very first step in any goal setting process is to get clear about your "Big Vision".
Where do you want to be 10 years from now?
Not sure how to define your Big Vision? Visit How to Define Your 10-Year Goals and Live Your Best Life.
Take some time to work through the process of clearly defining what your future should look like. What would it look like to live the life you dream of?
I will be living in my dream house, overlooking the ocean, and have a flourishing garden that I can tend to every single day because I'm not commuting and working crazy long hours.
I will have my own travel business and spend 6 months out of every year exploring new countries and cultures.
I will be retired and have the freedom to travel and visit all my grandchildren that are scattered across the US.
I will shop at Whole Foods and have a personal trainer 3 times a week because personal time and money simply won't be an issue anymore.
I will find fulfillment and job satisfaction working 3 days a week as an ICU nurse in a busy hospital, providing for my family and caring for my patients.
You have permission to daydream and spend the time to explore what it is that matters most to you. Visualize exactly what it will feel like once you accept into your life all the things that matter most.
If you draw a blank here because you haven't even allowed yourself to dream of a better future, take a moment to review the things which make you happy. You can do this by writing your happiness list.
Step 2: Turn that vision into clearly defined goals
Once you have your Big Vision, it's time to break it down into actual goals which need to be accomplished.
Any goal you set should be what I call an XYZ Goal. It must take you from current X to outcome Y by time Z.
For example, if you want to be living in your dream home, overlooking the ocean, your goals might run along the lines of:
I will purchase my dream home within the next 10 years. (No dream home to having a dream home within the time of 10 years.)
I will increase my annual income from $75,000 to $200,000 (inflation adjusted) within the next 10 years, with half that income coming from personal business and investments.
These two goals will allow me the luxury and time to live my Big Vision.
Defining your 10-Year Goals will allow you to uncover the many small goals that you need to achieve along your journey. You won't realize your Big Vision overnight. It will take many steps to get there. Your smaller goals will all support your Big Vision and direct the choices you make every single day.
Step 3: Use long-term goals to define smaller, mid-range goals
If a goal is too far into the future, it's just a wish. It isn't something you will realize right away so there isn't enough incentive to put the work in now.
This is why your long-term goals need to be broken down into smaller, mid-term and short-term goals. These are goals that will feel more realistic and achievable, therefore leading to more motivation and purpose to work on them.
Your Big Vision is 10 years into the future. Start by breaking that goal down into your 5-Year Goals.
What do you need to have accomplished 5 years from now in order to be on track to achieve your 10-year goals?
This process of breaking your Big Vision down into smaller chunks is how you will lay down the path to follow which will lead you to success.
Always remember: the journey to your Big Vision will have many steps. You need to plan out the detailed directions so you don't get lost along the way.
You can learn how to step through this process by visiting the 10-Year Goals post, and using the accompanying 10-Year Goals workbook.
Step 4: Turn your mid-range goals into 1-year goals
The next step is to think about what you need to accomplish in the next year in order to be on track to achieve your mid-range goals.
These are your 1-years goals.
Step 5: Use your 1-Year Goals to define your 90-Day Goals
Your 90-Day Goals are the most important goals to focus on. They reflect your Big Vision but also determine your weekly and daily actions. Completing these goals will step you toward achieving your 1-Year Goals, then your 5-Year goals, and continue to guide you to overall success.
Step 6: Break your 90-Day Goals down into monthly goals
Your 90-Day goals will remain front and center with you at all times. But you will still need to break them down into smaller, more easily achievable steps. This is where monthly, or 30-Day Goals if you don't happen to be starting at the beginning of a new month, are important.
These smaller goals will help you determine what you need to do today in order to see success tomorrow.
Step 7: Set your weekly tasks and daily actions
Progress is the direct result of daily action. But those actions must be intentional.
By going through the Stepping Stones to Goal Setting process, you clearly define the XYZ Goals (from x to y by time z) that form the overall journey you will take. By working backwards, you will then use this list as a guide to set your weekly goals and daily habits. These are the baby steps which make up your overall journey to the life you dream of.
Step 8: Use a 90-Day Goal Planner
If you aren't accustomed to using a planner, this may seem like a tedious or unnecessary step. However, that simply isn't the case.
Life has a way of simply getting in the way. If you don't have a method of keeping your goals front and center, of reminding yourself of them every single day, you won't make much progress. Life will beckon and the hundreds of daily tasks of everyday existence will clamor for attention.
By using a planner you develop the habit of reviewing what is most important. This allows you to intentionally prioritize your time. You can clearly visualize where you are now and where you are going, and you can lay out the exact steps which will lead you down the path to success.
Another necessary component of successful goals setting is tracking progress. In using a planner you can easily pinpoint exactly what you have done to work toward your goals and track your progress over time.
Can you get by without using a goal planner?
Maybe. It takes a really big why to push through life's distractions and stay motivated to achieve big goals. Even with a clearly defined purpose, chances are that progress will be slower than if you develop a system to write your goals, break them down, set daily tasks and track your progress.
The Science of Goal Setting: How to Set Achievable Goals goes into the details of just what it takes to achieve your goals.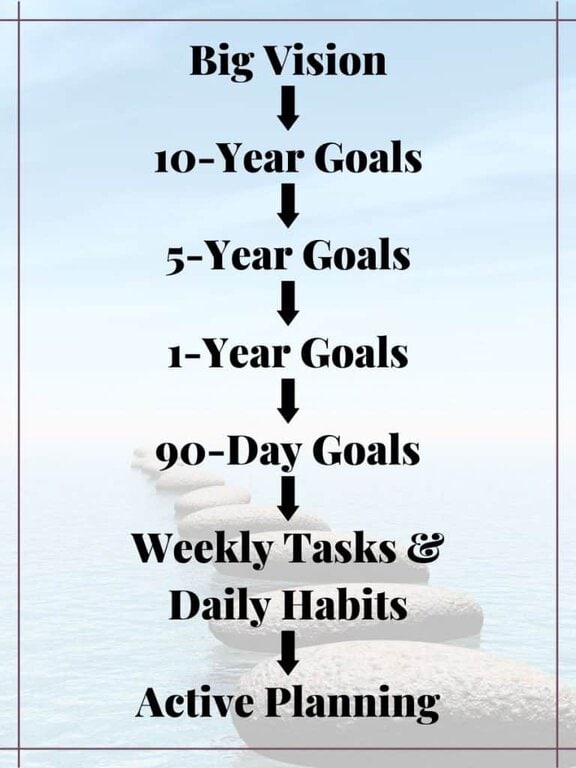 Why your 90-Day Goals are so important
Don't fear failure. Fear being in the exact same place next year as you are today.

Unknown
Your 90-day goals are vital if you want to move forward along the path to building your dream life. These goals have to be reached in order to make progress on your short and long-term goals and achieve your Big Vision.
Without these goals, life stays the same. You may make some progress here and there, but you may find that 5 years from now, you are still right where you are, right now. This may not be a bad thing, but if you dream of something bigger and better, following the Stepping Stones to Goal Setting steps will guide you on the journey to actually making that happen.
And this journey is most easily traveled with the guide of your 90-Day Goals.
Information is not the answer
If more information was the answer, then we'd all be billionaires with perfect abs

Derek Sivers
We all have information available to us. We already know what we need to do. It's the doing it that is the challenge.
If simply learning the information on how to get rich actually made us rich, we'd all be billionaires.
Even more familiar to most of us, if simply knowing how to lose weight and become fit was all we needed, we'd all be perfectly toned and healthy.
Information is not the answer. We have the information.
So why is this the first place we go when we want to achieve a goal? There is so much information widely and freely available. We listen to podcasts, read books, watch webinars and attend live events. We spend hundreds, or even thousands of dollars on education that promises to get us to where we want to be in life.
This is the easiest way we can trick ourselves into thinking that we will make progress. But it's not going to be enough to achieve your goals.
It takes action.
Action comes in the form of small daily habits that, with consistency, move us forward. It might be slow and you won't see instant results, but you will move forward.
Why you aren't living your dream life already
More information isn't going to achieve our goals for us. But this isn't the only factor that holds us back from success.
Poor habits
Lack of motivation
Lack of focus and clarity
Inconsistency
A self-limiting mindset
These are all factors that work against us when we set, but don't actually achieve, our goals. Remember, only around 20% of people that set goals actually go on to achieve them.
But that doesn't have to be you.
How to actually achieve your goals
Proper goal setting and daily action is what will move you forward to success. You need a clearly defined goal, a reason this goal is important to you and a clear plan in place dictating exactly how you will achieve this goal.
The 8 Stepping Stones to Goal Setting will help guide you through the process of clearly defining your Big Vision and all the long-term and short-term goals that will get you there. They are the guide that will lead you along the journey to achieving the life you want.
Recap
You can live the life you dream of by defining your Big Vision dream, turning that dream into a clear long-range goal, and then break that big goal down into smaller steps to achieve along the way. Here's what that will look like:
Once you have your path laid out, you can get started on your weekly tasks and step your way up to your 90-Day Goals. These will repeat until you work your way to achieving your Big Vision.
If you haven't made the progress you hoped to make in life so far, it's likely because you haven't clearly defined your big goals or set the smaller goals and habits necessary to make progress.
A goal too far into the future is just a wish. Smaller, short-term goals based off of your 10-Year Goals will lead you to success.
Action steps
Use the form below to download the Goal Setting Workbook
Using the workbook, define your long-term and short-term goals.
Next, use your 1-Year Goals as a guide to define your 90-Day Goals.
Once you have clear 90-Day Goals, you can map out what you need to accomplish each week and what daily habits and tasks will support your progress.
Find accountability and share your goals with the Stepping Stones to FI Facebook group at https://facebook.com/steppingstonestofi