This post may contain affiliate links, which means that if you make a purchase through a link, I may receive a small commission at no extra cost to you. Earnings are used to keep this website running.  Please read my disclaimer page for more information. I only ever include resources that I personally use and love.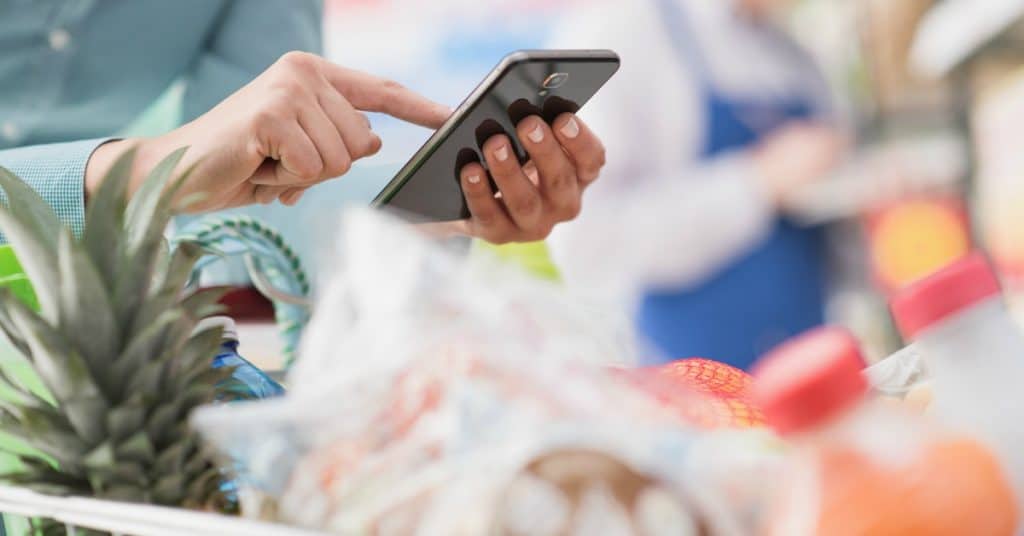 One of the very first articles I wrote for this blog, before it was even called Stepping Stones to FI, was on how to track your monthly expenses. Shortly after, I wrote the companion post on how to create a budget you can actually stick to.
I created my first downloadable freebies for the Resource Library, printable pdf monthly expense tracking and budgeting forms. This is what you need to do as a personal finance blogger after all.
But the truth is, I don't actually find these forms to be the most helpful. They are great starter forms. If you've been ignoring your personal finances, never knowing where your money goes until you check your bank account and ensure it isn't empty, then these are good forms. They will step you through the process of learning what your general expense categories are and find out exactly where your money goes.
In fact, in the very beginning stages, it's very beneficial to print something out and handwrite your daily spending. It will take more time to do this and you will learn a lot about your spending habits in the process.
Need to cut your expenses, too? Use this free workbook to dramatically cut your spending, even when money is tight…..
But once you become more familiar with your personal finances, it's time to graduate to a more in depth expense tracking system. Certainly one that is quicker and easier to use.
Not everyone is a spreadsheet junkie like I am. And so I've been reluctant to share my personal system of expense tracking and budgeting. It's not a clean and tidy system on the whole. And it's not very pretty. To anyone else, expense tracking spreadsheet and monthly household budget probably looks cluttered and indecipherable.
But it works for me. And it may very well be the solution you've been hoping to find.
In this post I will outline exactly how to create a personal expense tracker using Google forms and then how to turn your form responses into an expense tracking spreadsheet within Google Sheets. Additionally, I'll provide a monthly budget template using Google Sheets.
How to create your free personalized spending tracker app
First off, I need to give credit where credit is due. I first learned this technique while listening to my favorite podcast, BiggerPockets Money Podcast. Episode 7 was an interview with Mr. and Mrs. Waffles on Wednesday. They have a post on how to turn a Google Forms document into a personal expense tracking app that you can access right from the home screen of your smartphone. While there are other resources to step you through the process, I found their article easy to follow.
While Mr. WoW already outlined the process, and I highly recommend you reference back to his post, I've provided the process again. Everyone learns differently and I wanted to highlight my personal experience creating my own personalized form and spreadsheet. I am not tech savvy like Mr. WoW, so I've tried to provide the steps in the way that I muddled through them.
In case you're wondering, it took me about 20 minutes to establish my fully customized app and understand the resulting spreadsheet created to track spending. It took me another 2 hours playing around with exactly how I wanted to convey the information in my expense tracking spreadsheet.
Step One: Create a new Google Form
If you don't already have a Google account (like a gmail address), be sure to do this first. Then open up a blank Google Form.
Title the form "Expense Tracking" or something similar.
Create your form questions
Question #1 on your new form will be the date of the transaction. The form will automatically provide the response type as a date. You can then pick the format that you use. I'm accustomed to using month / day / year, but you can change this if you like.
Your next question will be the category of expense you need to record. Since Google is pretty smart, the form will likely automatically assign this question a dropdown menu.
Fill in each "Option #" with an appropriate expense category. Since I'm setting up a new form specifically for tracking my blogging expenses, I'm using categories that I need to track come tax time. On my personal expense tracking form I included my most common categories.
Question #3 will be where this transaction transpired. Following in WoW footsteps, I used titled this question "Vendor". Again, Google is pretty darn smart and automatically assigned the question type "short answer", which is appropriate. You could use a dropdown menu if you don't make purchases all over the place. Sometimes I feel like I spend money right and left, every which way, so I just fill-in-the-blank.
Question #4 will be the amount that you paid. I titled this "Amount" and Google automatically assigned the rule that this will be a short answer that is always a number.
For Question #5 I used "Payment Type" with a dropdown menu to include the credit cards I use, cash, check or other. This isn't necessary for basic expense tracking but I like to track this.
Save and share this post by adding it to your favorite Pinterest board
Email your form to yourself
In the upper right corner of the form, you will see a "SEND" button. Click on this and email the form to yourself.
Save your form on your smartphone home screen
Using your phone, open your Google expense tracking form within your email. Saving this form to your home screen will vary depending on your phone. I have an iPhone and I was able to easily select the option to send the form to my home screen, similar to if I was adding a page as a bookmark or emailing it to someone.
Save to home screen on iPhone and Android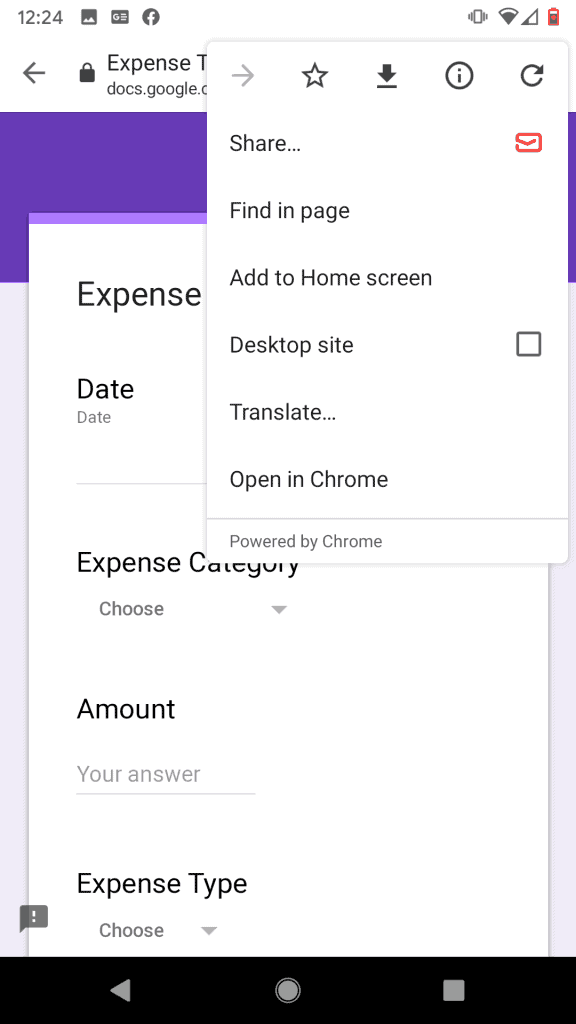 Once you have saved your form, open it and enter a few expenses. The form will reload for every expense transaction.
Turn your expense tracking Google Form responses into a Google Sheets
Go back to edit your expense tracking form. Up until now you have been editing your form in the "QUESTIONS" tab. Click over to the "RESPONSES" tab and turn your form into a spreadsheet. Click on the small green icon in the upper right corner of your form. Click on "CREATE" and your new spreadsheet will load in a new tab.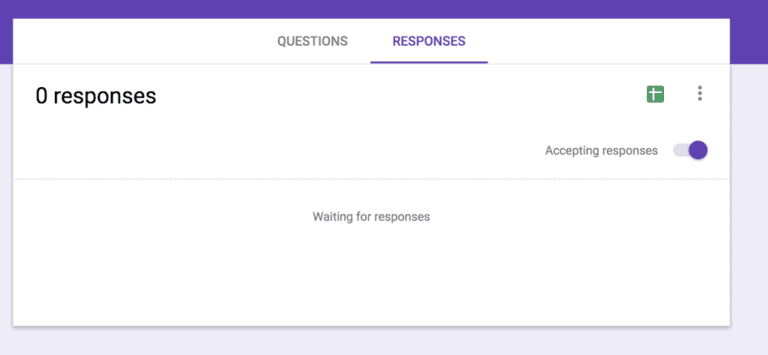 Once you add some expenses through your Google Form app, you will see your new form responses auto populated in your spreadsheet. The next step is to create a pivot table. Go to Data > Pivot table.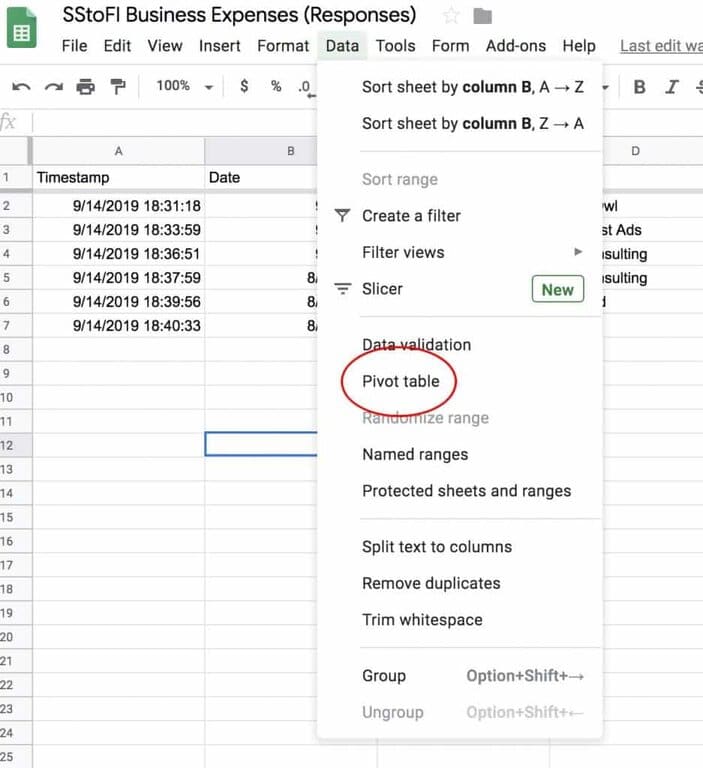 A new tab will open with your new expense tracking spreadsheet. There are a few things you have to adjust in order for this spreadsheet to track your category spending totals.
You will need to set the data range. In the right side pivot table toolbar, select the data range. It will say "form responses" and then the cell range selected. With this window open, toggle back over to the first spreadsheet "form responses" and select the "B" Column. Hold the shift key down and then select the last column with responses. In my case, I wanted the "H" Column.
Going back to the pivot table tab, you will see a field titled "Rows" with an "Add" button. Select add, then select your expense categories.
Under "Rows", select "Add" again and include your vendor, or however you label where the expense took place within your form.
Now go down to "Columns" and add your Date and Amount columns. I also added a Payment Type column so I can keep track of which credit cards I use.
Finally, under "Values" you will add "Amount" again. This will provide the total amount you spend across your categories and the month.
And now you have a fancy personal monthly expense tracking spreadsheet that automatically updates for you in Google Sheets.
Use your personal expense tracking app daily
Because this handy form is saved right to your smartphone home screen, and you always have your phone on you, you will be able to quickly add every expense you encounter throughout your daily life. When you receive a bill or automatic payment notification, just go back to your form and quickly enter the info.
Adjust your pivot table to highlight specific expense tracking information
After using my expense tracking app daily, I found that I wanted to personalize my entries even more. I've been using one for my individual expenses and one for my blogging expenses. (Yes, it takes a lot to provide all the content here on SStoFI!) Since I recently combined finances with my partner, it's been confusing trying to track what is a personal expense, a joint expense and attempt to understand my partner's expenses as well.
I added some additional questions to my form, such as "expense type" with drop down options including whether a purchase was personal, joint or my partner's.
Then I wanted my spreadsheet to highlight just one expense type at a time. So I created new pivot tables for each one.
Be sure to play around with your pivot table and find ways to utilize the information from your Google Form responses.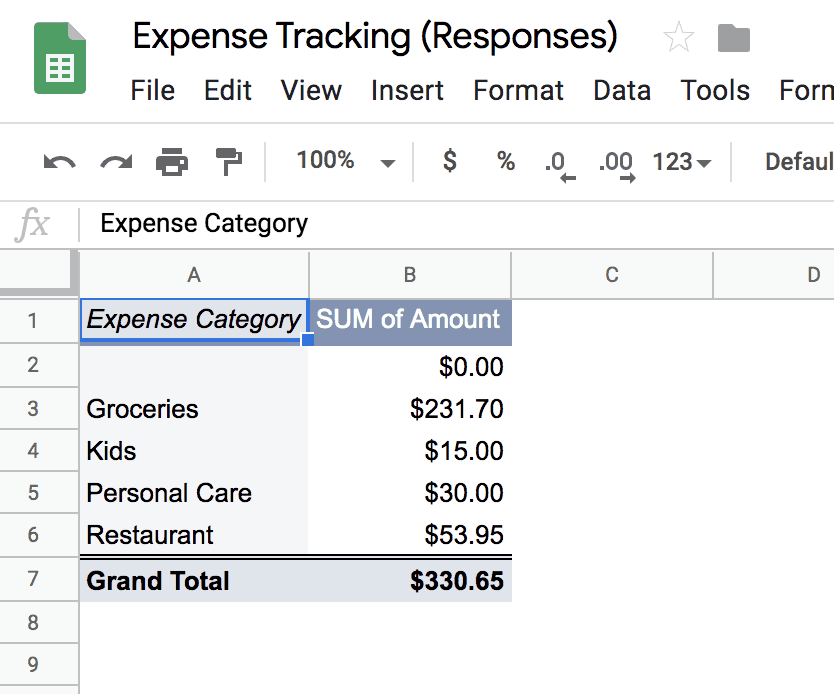 Create a monthly expenses and budget template in Google Sheets
Now that you have daily expense tracking down, it's time to set up your new budget. I finally took the time to clean up the spreadsheet that I have used for the last 10 years. You can download it by visiting the Resource Library. If you aren't already an awesome SStoFI subscriber, now's your chance to get signed up. I continually add new free resources to the library.
Use the link to open the shared Google Sheet. Be sure you don't make your edits here! Save a copy for yourself and edit your personal version. Otherwise, we will all be able to follow along with your personal expenses and budget!
Review the provided expense categories for more ideas
Because you've been using your daily personal expense tracking Google Form, you already have an idea of what expense categories make sense for you and your household spending. If you need some additional ideas, I have compiled a list of over 150 expense tracking categories.
I even have a whole post on this which you can visit here!
Once you have saved your own personal expense tracking spreadsheet, you will see that the first sheet tab is titled "Expenses" and the second tab is for "Expenses categories".
Using the "Expenses" spreadsheet tab, edit the fields to match your personal situation
I have included a basic budget with typical expense categories. This is where the "personal" in personal finance comes in.
My expenses are obviously not yours.
Toggle over to the "Expense categories" tab for ideas and inspiration. You can include only the categories you use within your personal daily expense tracking Google form app, or you can include more detailed breakdown of your monthly and annual expenses.
Tip: I keep my form more generalized so that it doesn't take forever to scroll through the expense category dropdown menu. For my budget, I expand each of these categories into a more detailed breakdown.
Add lines as necessary
You will likely do quite a bit of editing to this monthly budget spreadsheet. That's perfectly fine and appropriate. You can add or delete lines as necessary. I simply provided the organization and formatting so that you can quickly navigate the sheet.
Also of notice, I have groupings of categories rather than a long column of all expenses. This is simply how I prefer to visualize my budget. It isn't standard accounting practice, but hey, it works for me.
Check each expense category total
Each expense category within the monthly budget template has its own total. Make sure that all individual entries under the parent category is included in the total calculation.
As you can see in the above screenshot, I've assigned all the spending amounts a $1 expense. At the bottom is the total of all the transportation expenses. As you edit these values you'll want to check that it all still calculates out correctly.
Pay attention to annual expenses and include them in your monthly totals
An important expense category that I've included in the Google sheet is for all your annual expenses. These can easily slip through the budgeting cracks and catch you by surprise. I like to comb through my banking transactions over the last year in order to uncover any unusual, unplanned or annual expenses. Then I include these in my budget sheet.
You will see that this expense category has the total at the bottom, as well as a monthly total (total annual expenses divided by 12). I include this total into my total monthly expenses so that I can account for this extra spending.
Enter income totals
Finally, enter in all forms of monthly (and annual) income. How you track an annual bonus depends on how you typically spend that bonus. I don't like to count on that bonus and prefer to stay within my standard monthly income throughout the year. Any bonus therefore goes right to savings.
However, if you use that bonus to cover annual expenses or you keep it in savings and use it slowly over the next year to help with monthly expenses, you can add it to your income column as a monthly amount.
Review how much you have left over
Now for the fun part, calculate the difference between your take home income and your monthly expenses. Hopefully this is a positive number, meaning you bring in more money than you spend every month. If it is a negative number, review your category totals and see if you have any errors. If you don't, and you notice that you are depleting your bank account every month and relying on credit cards to cover the difference, it's time to review this budget and find ways to cut back on spending.
A helpful article is How To Save Money on Your Biggest Household Expenses.
You now have a daily expense tracking app and a monthly budget template!
Personal expense tracker google sheets
If you have been procrastinating on tracking your monthly expenses or following a budget, now's the time to get started.
Taking control of your finances is emotionally challenging. It's overwhelming when you don't which steps to take first or how to go about understanding your personal situation. All you know is that you aren't saving enough money and you don't know how to fix it.
By setting up a system that is easy to use and readily available, you increase the chances that you will use it often. Simply using it daily for a month will build the new habit of tracking your money. Once you start tracking your money, you begin to develop an awareness of your spending habits.
This is the first step to changing your money mindset.
Use this personal expense tracker in Google Sheets to make financial tracking and budgeting a habit. You will be able to take back control of your finances and begin to set and achieve new financial goals. And that is a darn good feeling.

Share and revisit this post later by adding it to your favorite Pinterest board!