This post may contain affiliate links, which means that if you make a purchase through a link, I may receive a small commission at no extra cost to you. Earnings are used to keep this website running.  Please read my disclaimer page for more information. I only ever include resources that I personally use and love.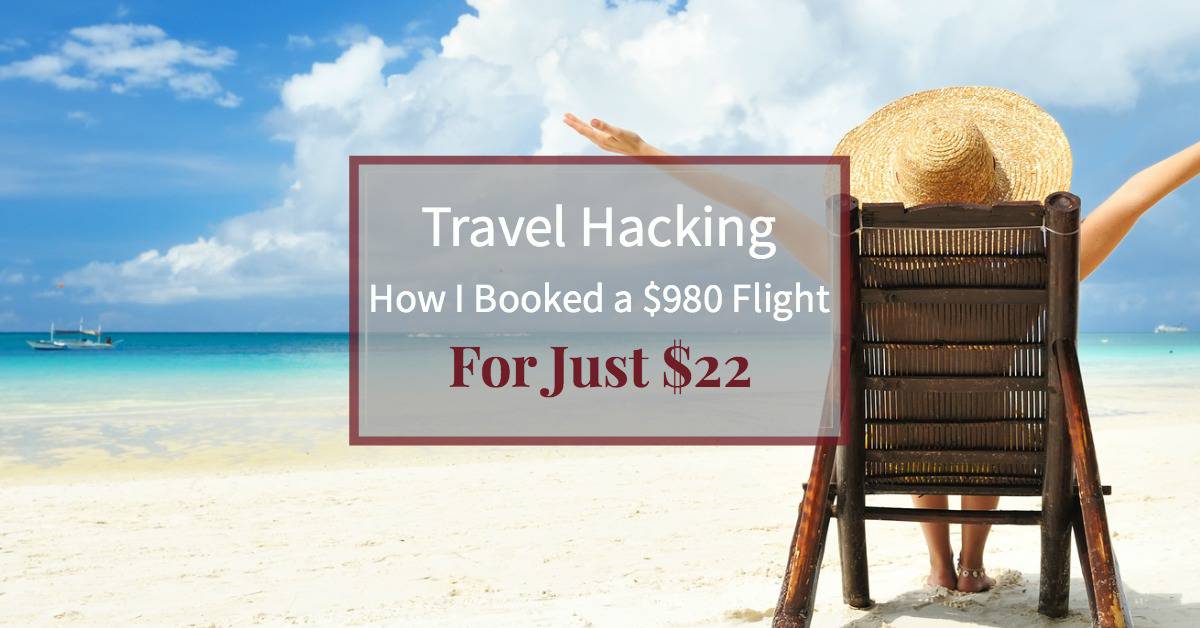 Summer is just around the corner and I'm really excited about it. I LOVE the nice warm weather and sunny days. I love how excited my son gets about all the summer camps he's going to. And I really love taking a few trips. But there is one thing I don't look forward to, actually booking those trips. Flights in the summertime can be so overpriced.
I'm planning on going to Minnesota with my boyfriend to visit his family. My son hasn't been yet and I can't wait for him to meet this huge family. There will be kids everywhere! And there will be waterparks and boating and picnics! I've been a couple of times without my son so I'm really excited to include him this time. But I was a little hesitant about the cost of airfare for the two of us.
Then I listened to a podcast on travel hacking. The two people being interviewed reported greater than 20% returns on the money they spent with their credit card by using their points for travel. 20%!! My mind was blown. I've heard about using credit card points to get travel deals, but it never seemed to be worth it to me. I was seeing 1-2% returns.
These people were seeing >20% return on their investment from using a credit card for normal spending. In other words, no investment at all!
Wait, what? A >20% ROI on money I already used to cover my basic monthly expenses? This can't be possible.
So I did some research. Here's what I learned.
Intro to Travel Hacking
Want to revisit this post again later? Save it to Pinterest!
Chase Sapphire Rewards Card
If you sign up for a new card, here's what happens:
Open a new card and spend $4k in the first 3 months: Earn 50k rewards points
Add another user and spend anything on that card: Earn an additional 5k points
50k points are valued around $625 when you book travel through the Chase Ultimate Rewards website
Cash value of points is 1%
No annual fee the first year
Annual fee after the first year: $95
Link to card: Chase Sapphire Preferred Card
Note:
When I actually used the website to book my travel, I did not find that my points were worth $625. They were still the cash value of $500.
Let's look at what this means in terms of return on investment (ROI):
Normal spending of $4k in 3 months = 50k points
Add another user (my 13 year-old son, who needs to build credit anyway) = 5k points
Total points earned = 55k
Cash value = $550
Note: You also earn 1.5x points for every dollar spent. I spent $4k to earn my 55k points but that's actually 55k + 6k = 61k points
Cash value = $610
How to redeem your points
When I went to the travel rewards page I had 61k points, good for $610.
Wait, what?
I signed up for this card for greater than 1-2% rewards. I went through the process of looking at all the flight options. Then I went to those airline websites and researched the same flights and what the cost would be by booking outside of the rewards page. It was pretty comparable. So no additional savings.
When I selected the flights I needed, the total was $850. It would use up all of my points and then I'd have to pay the extra $240. I thought I was travel hacking! Travel hacking shouldn't involve using up all your points and then paying extra, right?
So then I did some more research. The key is transferring your points to a partner company.
How to transfer your points to a partner company
First of all, here is a list of some of their Travel Partners:
British airways
United
Southwest
Airfrance
Virgin Atlantic
Hyatt
IHG
Marriott
Ritz Carlton
I have a frequent flyer rewards program with Southwest airlines. I had 10k points with them already from a couple business trips I'd taken in the last year. When I searched for the flights I needed, it was going to be $980 to book my flight.
Then I searched the same flights by points. It would take 50k points to book these same flights. I was short by 40k points.
Back to my chase rewards site. I can transfer 40k points over to my southwest account instantly. Of note, once you do this, there is no going back. You only want to transfer right when you are ready to book your travel.
I transferred the 40k points, then reloaded my Southwest browser. Viola, the points were in my account. Next, I booked the flights and the only cost to me was the $22.40 in taxes and fees.
I now have $980 flights booked for just 40k points. I still have 21k points left over in my Chase Rewards account.
Now for the fun part.
Let's do the math
The dollar value on my 40k points is $400. My full-price flight was $980.
The formula for ROI:
ROI = (return from investment – cost of investment) / cost of investment
Or in our case
ROI = $ point value / money spent to earn points
$610 value after spending $4k
ROI = $610 / $4000 = 15.25% return
Not bad.
But when I transferred my points, here's what happened:
I spent $4000 and ended up with $980 to spend.
ROI = $980 / $4000 = 24.5% return
Better!
But wait, there's more! I didn't even use all my points! It only took 40k points out of my 61k points. I still have $200+ in points left to spend later.
I spent $4000 and ended up with at least $980 + $200
ROI = $1180 / $4000 = 29.5%
Now we're talking!
Assuming I'm able to stretch my extra 20k points the same way I did with this trip, my 29.5% return is even higher. If I pad my 20k points with the 24.5% return that we calculated earlier, my 29.5% return increases to 30.7%. I didn't need to book a hotel for this trip, but if I did, I'd be booking my room with these extra points.
In actuality, I'd been using a Chase Freedom Unlimited card for a while already, because it earned my 1.5% cash back instead of the 1% that my old credit card earned. I already had a lot of points accumulated. What I had always done in the past however was wait until I had a large purchase, like a vacation or unexpected bill, and I would apply the cash credit to my credit card bill.
I was happy with my 1.5% cash return.
Now I've learned my lesson. NEVER use the cash value!!
Next steps
I still earn 1.5-3x points for every dollar I spend. Every month, I use my credit card for all my normal purchases and then I pay off my balance in full, every month. I NEVER carry a balance and I NEVER pay interest. Before the end of my introductory year of using the card I will cancel it. I don't want to pay the $95 annual fee. Some cards have larger annual fees, but they provide benefits that more than cover that extra cost. In these unique cases I still maintain the credit card and ensure that I am utilizing the benefits to cover the expense.
Once I cancel this card I will move on to another travel rewards card and utilize the same introductory offer.
What if I just keep using this card?
I could also keep using this card. My returns would go down.
How much, you ask? Let's see:
Spend $10k and earn 15k points. Value is $150.
Assuming I get the same kind of deal by transferring points and otherwise being smart about how I utilize my points, I'll probably stretch them to maybe double.
$300/$10k = 3% ROI
Add to this the $95 annual fee and travel hacking just isn't so exciting anymore.
How to keep up the momentum with additional credit card rewards
There are a number of reward cards that you can use, one by one. Chase has a few to start with:
Sapphire Rewards:  50k bonus points / $0 introductory annual fee
Sapphire Reserve:  50k bonus points / $450 annual fee
Southwest Rapid Rewards Plus:  40k bonus points / $69 annual fee
United MileagePlus Explorer:  40k bonus miles / $0 introductory fee first year
United MileagePlus Club Card:  50k bonus miles / $450 annual fee
Ink Business Preferred:  80k bonus points / $95 annual fee
Southwest Rapid Rewards Premier Business:  60k bonus points / $99 annual fee
United MileagePlus Business Explorer:  50k bonus miles / $0 introductory annual fee
How many points is this? If you take 6 months to a year for each card, it will take you 4 years to enjoy free trips. You would have a total of 420,000 points (not including the 1-2x points you earn for every dollar spent). If you use an average value of 2 cents per point, that's $8,400.
Note: If you are married, you and your spouse can take turns opening new cards. You can do this twice around! Now you have $16,800 to spend on travel!
More Options
There are more cards to use. I listed just some of the travel cards that Chase offers. There are hotel and Disney cards as well, all making free travel possible.
Can I open a business credit card if I don't have a business?
Don't have a business? That's okay! If you do any consulting work, have your own blog, have a rental property, have a business idea…. You can act as a sole proprietor under your SSN to apply for a business card. You do not have to file paperwork and be an official business (think LLC) to have a business card.
How does this affect your credit?
If you already have good spending practices, you already have good credit. A decrease of a few points won't affect your borrowing ability. My credit has gone up so far because I improved my overall debt to available credit ratio.
Who is travel hacking NOT for
If you have struggled with debt in the past and aren't ready to be trusted with a new credit card
If you aren't able to spend $4k in the first 3 months and it pay off in full
When you have poor credit and don't qualify for this card
If you don't like to travel and won't utilize your points anyway
Recap & Action Steps
I have round trip tickets for myself and my son, across two time zones, for only $22.40!! Tickets were going to cost me a minimum of over $800, or $980 for the tickets I'm using.
Travel hacking is amazing! Here is a rundown of all the steps it took to do this:
Apply for a Chase Sapphire Rewards Card
Add my son as an additional user
Spend $4,000 within the first 3 months of opening the card account (this step was easy, my son needed his second round of braces. $6k on the card!
Sign in to my Chase online account and view my rewards points (I had over 60k)
Research travel using the Chase Ultimate Rewards Website
Realize that I was only getting the cash value for the points
Research travel separate from Chase travel program
Realize that costs were comparable but at least my 60k points were worth $600 in travel
Research Southwest (because I have a frequent flyer account and 11k points)
Pick my flights: $980 round trip or 50k points
Realize I'm short 40k points
Go back to Chase Ultimate Rewards website (https://ultimaterewardspoints.chase.com)
Go to "transfer to travel partners"
Transfer 40k points to Southwest using my Southwest account number
Go back to Southwest and book my flights using points
Pay $22.40 in taxes and fees
Go travel!!
This process was straightforward, now that I know about the Travel Partner program. Applying was easy and my card arrived shortly after applying online. My points from my other Chase credit card were easily combined with this new card. A nice bonus, my credit score improved!
My next step is open up the next card on the list and decide where I want to go next!
Update
Since writing this post I have opened a Chase Ink Business Preferred card. This has a rewards bonus of 80k bonus points after spending $5,000 in the first 3 months. There is a $95 annual fee.
With this card I earn 3x points on every dollar, up to $150,000, each year on qualifying business purchases. What are these purchases? I moved my cable (only used for wifi), cell phone, all business expenses, shipping expenses, and travel to this card. All other spending earns just 1x points, therefore I use my Chase Freedom Unlimited card for most everything else. The only exception is eating out. Anytime I go to a restaurant, I use my Chase Sapphire Preferred card, which earns 2x points on dining.
I also had a bad experience missing a flight because of an unusually long security line at the airport. I researched the process of applying for global entry. The cost to apply is $100 and membership lasts 5 years.
I didn't learn until after I'd already applied for global entry that the Chase Sapphire Reserve card will reimburse the $100 application cost, as well as $300 in travel expenses each anniversary  year. I might have waited if I'd known that!
More free travel
Here's how I've earned more points and used them so far:
Earned 10,000 bonus points by referring my boyfriend to sign up for his own Chase Sapphire Preferred card.
Booked my roundtrip flight to Nice, France (out of San Francisco) for just over $200.
Purchased 3 flights (me and two friends) for just $16.80. This required 7,000 reward points and would have cost $360.
Total reward points still available: 109,000.
Want to revisit this post again later? Save it to your favorite Pinterest board!