This post may contain affiliate links, which means that if you make a purchase through a link, I may receive a small commission at no extra cost to you. Earnings are used to keep this website running.  Please read my disclaimer page for more information. I only ever include resources that I personally use and love.
If you're anything like me, you find yourself well into November and still haven't purchased any gifts for the holidays. If procrastination was a talent, it just might be my superpower. But even if you are late to the holiday game, you can still find some great gifts for everyone on your list and not break the budget.
Here's a Holiday Gift Guide with a list of gift ideas that not only don't break the bank for you, they help save money or provide financial support for the recipient. Or, for those that don't need the support, you can give the gift of a special and memorable experience that is worth the splurge.
Give the gift of peace of mind
While it might not sound like an exciting gift to unwrap, providing peace-of-mind is priceless. And this is what the Smart Money Mamas In Case of Emergency Binder provides.
In my post Why You Need a Family Emergency Binder, I told my story of exactly why a product like this would have changed my life. My husband passed away when our son was just 3 years old. I had been a stay-at-home-mom, so I was left with no job, no career prospects, and no money. He had told me he was going to set up a life insurance policy, but it turned out he never got around to it.
The best gift you can give is that of peace-of-mind. Get this for your own family, or one close to you. It's easy to go through the work pages, fill-in-the-blanks and follow the prompts to become protected in the event of an emergency.
Check out the product page to learn more and purchase a printable pdf workbook.
Master your money super bundle
Give the gift of financial security this year with a bundle package of personal finance products at a steep discount. Products cover areas of budgeting, family finance, debt payoff, saving and money mindset. There is a special promotion during the holidays, then it is offered again throughout the year at a higher price. If you don't see the product page, simply add your name and email to receive notice as soon as it is available at the end of November.
Books
I love me a good book. And the thing is, there are so many books out there that without a personal recommendation from someone you trust, it's challenging and oftentimes overwhelming to pick the "right" one to invest in and read.
Which is where you, the financially savvy gift giver, comes in. Whether your friend or loved one can benefit from money management to personal development, I've got you covered. These are my trusty, vetted many times over, personal library favorites.
Personal finance
Wealth Building
Personal Development
Check out the Barnes & Noble Gift Guide for more ideas

Journal & Planners
Even though we live in the age of smart phones and Alexa, it's still sometimes more effective to use a personal planner and write in a journal. Personally, if I don't hand write something, I likely won't remember it. So I like to keep a personal day planner for important notes and dates, as well as a goal planner to help me prioritize my time and remind myself of what is most important.
And, since many of these planners are beautiful and fun to use, they make great gifts!
My favorite goal planner is this one, however, it is geared specifically towards the real estate investor:
Journals
Planners
Productivity Planners
Goal accountability planner
Another great productivity and success planner is from Dailygreatness. I love their success planner, but they offer a planner for just about everyone.
Dailygreatness Yearly Success Planner
Experiences
Local events/excursions at a discount using Groupon
For an additional 20% any Groupon purchase, use this link.
Local classes (cooking, art, hobby, etc.)
I absolutely love the idea of giving a certificate for a local cooking class. This is a great idea for couples, too! There are often local cooking, baking and wine pairing classes available through Groupon or local stores, community colleges or centers.
Hand make something special
Dinner at a local restaurant
Always a huge hit, purchase a gift certificate for a nearby restaurant.

Membership & Subscriptions
Give the gift of prime
Amazon music
Amazon Kindle Unlimited
Membership or credit for classes at a local gym
Streaming subscriptions
Audible membership or credits
Annual family membership to a local zoo, aquarium, tech museum, theatre or other attraction
Movie Tickets
I almost never go out to see a movie anymore. By the time you purchase the tickets and buy your snacks your down at least $50. And that's just for 2 people on date night! Forget going out to the movies as a family.
If there is a movie I really want to see, I'll plan to go to a matinee to save money. And I certainly won't purchase any concessions while I'm there.
But, I do love the whole movie night experience. Which is why I love getting movie tickets as a gift. Especially if they include extra money for a drink and popcorn.
One great way to purchase movie gift cards is from Costco. You save money overall (the gift card is worth more than the purchase price) and if I'm shopping for my own teen/tween family members, I'm likely to spend money on sending them to the movies throughout the year anyway. At least this way I save a little money.
Another option is to purchase a gift card online. Fandango has a nice holiday promotion that includes concession spending as well.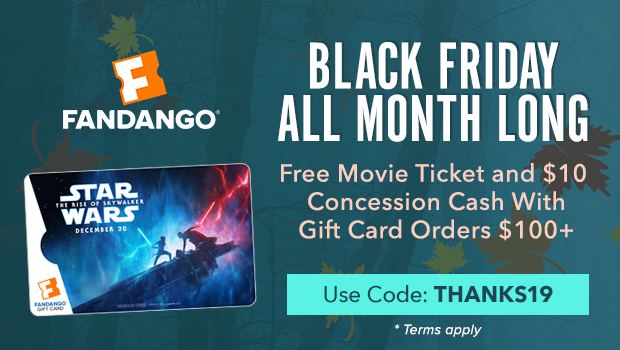 Pay a bill for someone
Back in the particularly bleak days of single motherhood, a very thoughtful family member offered to pay my bills for me one month as a gift.
This was seriously the very best gift I could have received.
Having my bills paid meant I didn't have to stress about how I was going to put gas in my car or feed myself and my young son.
If you know someone that is having a hard time making ends meet, do them the favor of easing their burden just a bit. It may seem like an awkward or unexciting gift, but it's welcome all the same.
For the person that already has it all
If you just can't think of the perfect gift for the person that just goes out and already buys what they want, give the gift of charity. Make a donation to a favorite charity in the gift recipients name. Not only is it a very thoughtful gesture that extends to those in real need, it also acts as a tax write off for you.
When all else fails, give a gift card

Related reading
How to Stay on Budget This Holiday Season (Even When You Didn't Plan Ahead!)
How to be Financially Savvy This Holiday Season (Roundup)
Why You Need a Family Emergency Binder
Need to revisit this later? Save it to your favorite Pinterest board!